Recent years have brought tremendous advancements in Graphics Processing Units development. The computing power of the current top-of-the-line graphics cards reaches more than 10 TFLOPS, which is about 100 times more than the average modern desktop CPU.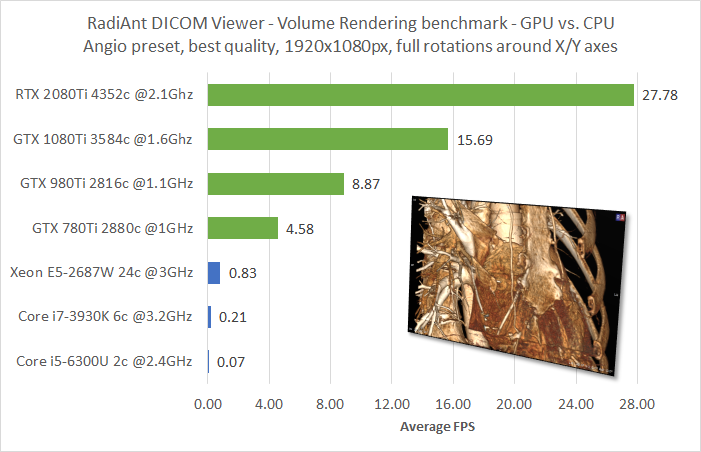 Three-dimensional reconstruction modes available in RadiAnt DICOM Viewer (3D Volume Rendering; 3D Multiplanar Reformation) are based on algorithms that require tens of billions of mathematic operations per one frame of reconstructed image. When CPU is used for such calculations, progressive rendering has to be used to facilitate the fluidity required for smooth interactions. Only when a user stops volume manipulation can the final image be rendered in best quality. However, if a compatible GPU card is detected in the system, it can be used by RadiAnt DICOM Viewer to crunch the numbers at much faster rates, so that smooth interaction with volume can be achieved at best rendering quality.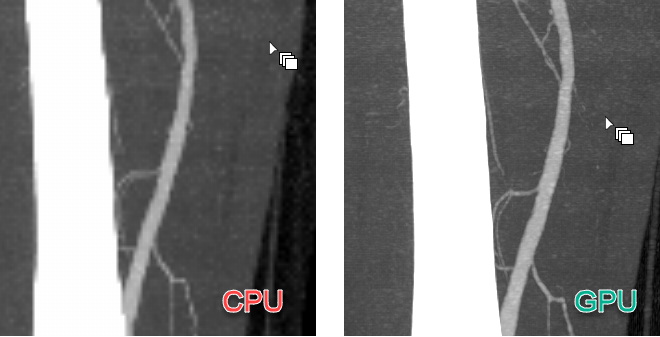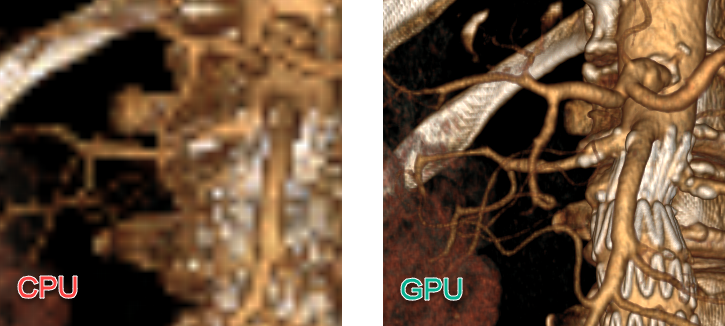 GPU rendering mode is automatically enabled in 3D VR and 3D MPR windows when a fast Nvidia graphics card is detected. If a slower card is detected, GPU mode has to be enabled manually.
•A 64-bit version of RadiAnt DICOM Viewer is required to make use of GPU-accelerated rendering, this mode is not supported in the 32-bit version of the viewer.
•The latest Nvidia drivers should be installed (http://www.nvidia.com/Download/index.aspx).
•Nvidia CUDA compatible GPU is required with the compute capability version 3.0 or later:
GeForce GTX 770, GeForce GTX 760, GeForce GT 740, GeForce GTX 690, GeForce GTX 680, GeForce GTX 670, GeForce GTX 660 Ti, GeForce GTX 660, GeForce GTX 650 Ti BOOST, GeForce GTX 650 Ti, GeForce GTX 650, GeForce GTX 880M, GeForce GTX 780M, GeForce GTX 770M, GeForce GTX 765M, GeForce GTX 760M, GeForce GTX 680MX, GeForce GTX 680M, GeForce GTX 675MX, GeForce GTX 670MX, GeForce GTX 660M, GeForce GT 750M, GeForce GT 650M, GeForce GT 745M, GeForce GT 645M, GeForce GT 740M, GeForce GT 730M, GeForce GT 640M, GeForce GT 640M LE, GeForce GT 735M, GeForce GT 730M, GeForce GTX Titan Z, GeForce GTX Titan Black, GeForce GTX Titan, GeForce GTX 780 Ti, GeForce GTX 780, GeForce GT 640 (GDDR5), GeForce GT 630 v2, GeForce GT 730, GeForce GT 720, GeForce GT 710, GeForce GT 740M (64-bit, DDR3), GeForce GT 920M, GeForce GTX 750 Ti, GeForce GTX 750, GeForce GTX 960M, GeForce GTX 950M, GeForce 940M, GeForce 930M, GeForce GTX 860M, GeForce GTX 850M, GeForce 845M, GeForce 840M, GeForce 830M, GeForce GTX 870M, GeForce GTX Titan X, GeForce GTX 980 Ti, GeForce GTX 980, GeForce GTX 970, GeForce GTX 960, GeForce GTX 950, GeForce GTX 750 SE, GeForce GTX 980M, GeForce GTX 970M, GeForce GTX 965M, Nvidia TITAN Xp, Titan X, GeForce GTX 1080 Ti, GTX 1080, GTX 1070 Ti, GTX 1070, GTX 1060, GTX 1050 Ti, GTX 1050, GT 1030, MX350, MX330, MX250, MX230, MX150, NVIDIA TITAN V, NVIDIA TITAN RTX, GeForce RTX 2080 Ti, RTX 2080 Super, RTX 2080, RTX 2070 Super, RTX 2070, RTX 2060 Super, RTX 2060, GeForce GTX 1660 Ti, GTX 1660 Super, GTX 1660, GTX 1650 Super, GTX 1650, MX450, RTX 3090, RTX 3080 Ti, RTX 3080, RTX 3070 Ti, RTX 3070, RTX 3060 Ti, RTX 3060, Quadro K5000, Quadro K4200, Quadro K4000, Quadro K2000, Quadro K2000D, Quadro K600, Quadro K420, Quadro K500M, Quadro K510M, Quadro K610M, Quadro K1000M, Quadro K2000M, Quadro K1100M, Quadro K2100M, Quadro K3000M, Quadro K3100M, Quadro K4000M, Quadro K5000M, Quadro K4100M, Quadro K5100M, NVS 510, Quadro 410, Quadro K6000, Quadro K5200, Quadro K1200, Quadro K2200, Quadro K620, Quadro M2000M, Quadro M1000M, Quadro M600M, Quadro K620M, NVS 810, Quadro M6000 24GB, Quadro M6000, Quadro M5000, Quadro M4000, Quadro M2000, Quadro M5500, Quadro M5000M, Quadro M4000M, Quadro M3000M, Quadro GP100, Quadro P6000, Quadro P5000, Quadro P4000, Quadro P2200, Quadro P2000, Quadro P1000, Quadro P400, Quadro P500, Quadro P520, Quadro P600, Quadro P5000(Mobile), Quadro P4000(Mobile), Quadro P3000(Mobile), Quadro GV100, Quadro RTX 8000, Quadro RTX 6000, Quadro RTX 5000, Quadro RTX 4000, T1000, T600, T400, T1200(mobile), T600(mobile), T500(mobile), Quadro T2000(mobile), Quadro T1000(mobile), RTX A6000, RTX A5000, RTX A4000, RTX A5000(mobile), RTX A4000(mobile), RTX A3000(mobile), RTX A2000(mobile)