Select Ellipse from the Measurements drop down menu (or press the E key).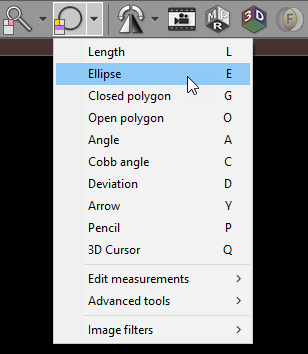 Press left mouse button and drag the mouse to draw an ellipse with pixel value measurement. Release the button to finish drawing.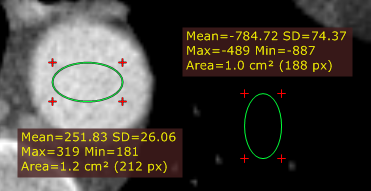 The values measured are:
| | |
| --- | --- |
| Name | Description |
| Mean | Mean pixel value (Hounsfield Units for CT images) |
| SD | Standard deviation |
| Max | Maximum pixel value |
| Min | Minimum pixel value |
| Area (px) | Area in square centimeters and the number of pixels used for calculations |
You can move the ellipse or change its size by dragging it or the surrounding cross-marks with the left mouse button pressed.
The label may also be dragged to a more convenient place if necessary.
Press Shift while drawing the ellipse to make it a perfect circle.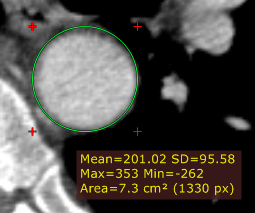 When drawing an ellipse in a magnified image, you can press the Ctrl key to show the boundary of actual pixels taken into account in calculations.