3D snapshots allow for saving the current state of the 3D VR (Volume Rendering) viewer and a quick restore. The following image settings are stored in a 3D snapshot: position and rotation of the object, zoom factor, scalpel actions, 3D preset (color look-up table), and the range of displayed values (window settings).
These can also be used to create scenarios for advanced VR movies.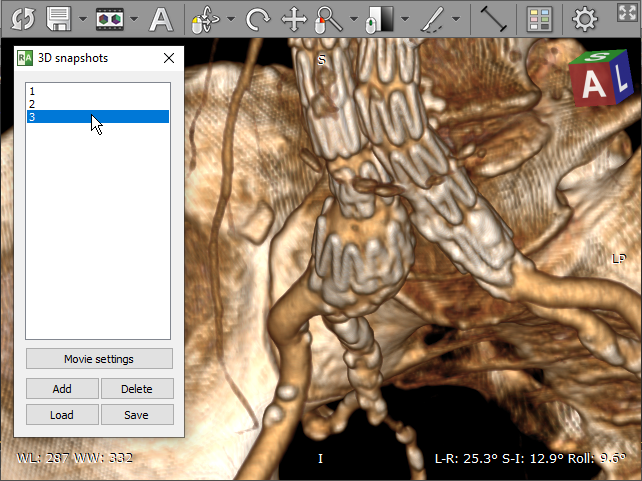 To store a 3D snapshot, press K or select Take snapshot from the drop-down menu.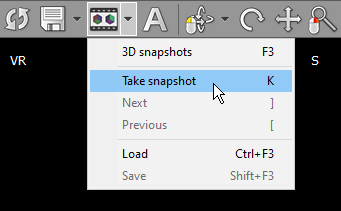 To quickly restore and switch between snapshots, press ] / [ or select Next / Previous from the drop-down menu.
To show the list of stored 3D snapshots, click the 3D snapshots toolbar button or use the F3 shortcut.

3D snapshots are stored in memory and cleared as soon as the VR window is closed. To store them permanently in a file, select Save or press Shift + F3 . Then select the snapshots file location and press Save .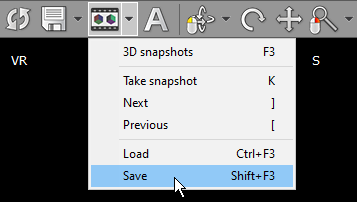 Next time you want to restore the saved snapshots, press Ctrl + F3 or select Load from the 3D snapshots menu. Then browse to the file and click Open .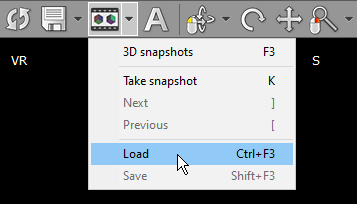 You can also drag and drop the saved snapshot file onto the VR window.