Select Ellipse from the Measurements drop down menu (or press the E key).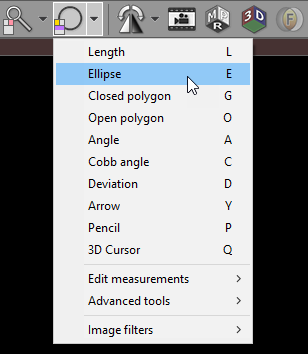 Press left mouse button and drag the mouse to draw an ellipse with pixel value measurement. Release the button to finish drawing.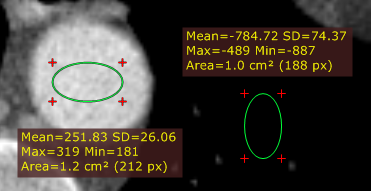 The values measured are:
| | |
| --- | --- |
| Name | Description |
| Mean | Mean pixel value (Hounsfield Units for CT images) |
| SD | Standard deviation |
| Max | Maximum pixel value |
| Min | Minimum pixel value |
| Area (px) | Area in square centimeters and the number of pixels used for calculations |
You can move the ellipse or change its size by dragging it or the surrounding cross-marks with the left mouse button pressed.
The label may also be dragged to a more convenient place if necessary.
Press Shift while drawing the ellipse to make it a perfect circle.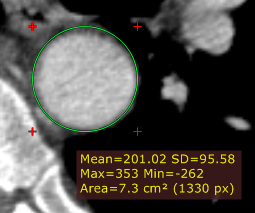 When drawing an ellipse in a magnified image, you can press the Ctrl key to show the boundary of actual pixels taken into account in calculations.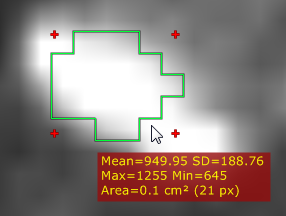 Press Esc while drawing the ellipse to delete it.
SUV measurement
For PET images the ellipse tool can be used to measure the maximum, minimum, and average values of the Standardized Uptake Value calculated using body weight (SUVbw) for a specified area.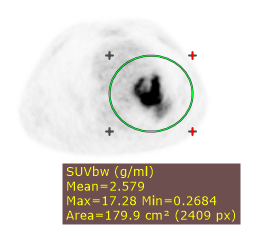 The SUV measurement is possible only when there is necessary data included in the DICOM files (patient weight, radio pharmaceutical dose and time, etc.), otherwise, the ellipse tool will show the uptake measured in Bq/ml (or in other units specified in the 0054,1001 DICOM tag).
The SUV calculation is based on the formula below: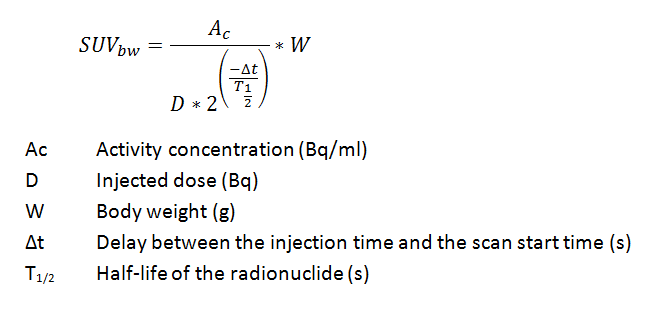 Hover the cursor above the ellipse and right click on the mouse. Select Calculate SUVbw [g/l] to switch between SUVbw and basic units.