Medixant - About Us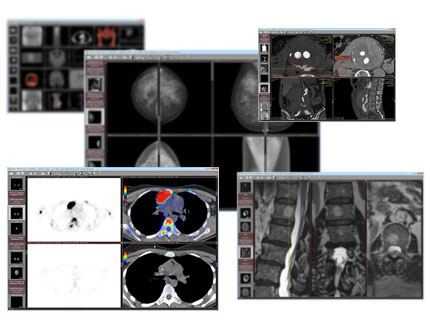 Medixant is a small, privately funded company that was first formed by Maciej Frankiewicz in 2011. It is located in the innovative and beautiful city of Poznan, Poland. As a team, we are devoted to our motto:
"The power of simplicity in medical imaging,"
and we strive to continually improve our products and to provide cost-effective software that is of the highest quality.
Medixant was first conceived in 2009 when Maciej, then resident radiologist at University Hospital, was able to observe firsthand some of the problems that his fellow clinicians experienced as they attempted to open and operate a multitude of substandard patient CD browsers. He immediately embarked on a personal mission to create a simple and fast application that could allow users to view DICOM images quickly and easily. A few months later the first public release of his software hit the market and RadiAnt DICOM Viewer was born.
RadiAnt DICOM Viewer has come a long way since it was first designed in 2009 and it is now a highly reputable DICOM viewing solution that has been used by many satisfied users in more than 190 countries throughout the world.
User quotes
"I have used RadiAnt for years now. I do 100% of my work through the 3D MPR window. I love how easy it is for me to evaluate a volume. The combination of keyboard and mouse shortcuts and the way the 3D MPR window works make this software much easier to use than software many times more expensive. Please don't change these things as you add more functionality! I tell all my colleagues about your software. Thank you for keeping this up. I will continue to buy licenses (...)"
Pseudoname
RadiAnt Forum
"RadiAnt (unlike ***** and *****) has a very user-friendly and intuitive operator interface. There is a single toolbar in RadiAnt with only a few but powerful tools that can be quickly learned, even by a person who is uncomfortable with computer-based technology. Furthermore, it is effortless to convert 3D images in DICOM format to stereolithography format (the standard file format for 3D printing) using RadiAnt with a single click. This process is very cumbersome in *****."
JS Gosal et al. Neurosurg Focus 51 (2):E23, 2021
"First, congratulations on an amazing program. As a consulting Radiologist, I'm very impressed with your software. I'm using RadiAnt primarily for research and review. In several respects, it performs better than the software we use at the enterprise-level. Your interface is simple, clean and fast!"
luckman88
RadiAnt Forum
"In conclusion, practice-based learning using smart class [with RadiAnt DICOM Viewer used as the PACS display workstation] improved students' application ability and satisfactions in undergraduate radiology education while avoiding legal issues and authorization required in real clinical work. This could be a practical model for early exposure to radiology practice and competency development for undergraduate medical students."
Yun Qin et al. Academic Radiology (2020)
"I bought this software about a week ago. Having used other software for viewing DICOM files, your software is absolutely amazing by comparison. It is quick, intuitive and a real pleasure to use. Thank you for my purchase!"
Fred Nath
Consultant Neurosurgeon
"I am a interventional neuroradiologist, working in field of radiology since 11 years. Over the years I have found RadiAnt to be the best tool in radiology. There is no software in radiology which helps and makes our work easy and better than RadiAnt. And surprisingly this is available free of cost [as a fully functional trial version] everywhere, user friendly and keeps on improving every day. Great work guys. A Big Thanks. There are very few thing on earth, which are as good as RadiAnt."
Dr. Manisha Joshi
India
"To say that you guys are crushing it would easily be an understatement. Great work guys!"
JJ
RadiAnt Forum
"I've just started using RadiAnt recently and I'm very positively surprised how good, quick and simple is the application! I bow before you. (...)"
Kaligula
RadiAnt Forum
"Since we changed our CD-embedded default DICOM viewer and started using RadiAnt DICOM Viewer, we had very positive feedback from patients and referring physicians. The intuitive interface of RadiAnt and the fast loading of the DICOM images impressed a lot of them and made easier and more comfortable to review our exhaminations"
Tommaso Bartalena
Pol. Zappi Bartalena - Imola (Italy)
"RadiAnt - the single viewer that can change your life! (...) can open almost any dicom file, query from almost any PACS and even do relatively advanced post-processing such as PET-CT/PET-MR fusion, 3D MPR, MIP and volume rendering. The latest beta version can also save full cases within the software itself."
V. Mahajan, V. Venugopal, S. Gupta
ECR 2019 Congress, Educational Exhibit
"With the help of the picture archiving and communication system (PACS) and RadiAnt DICOM Viewer, we modified an experiential education method that simulates similar working conditions for undergraduate medical students to formulate radiology diagnosis similar to clinical radiologists. (...) Compared with the traditional radiology education approach, the experiential education method showed greater efficacy in improving students' analysis and diagnostic skills and their self-confidence."
Chen et al. BMC Medical Education (2019) 19:383
"I'd like to thank the dev team for this amazing DICOM viewer. Definitely the best out there."
Lucas
RadiAnt Forum
"I am a RadiAnt BETA user since its start. I am a paediatric cardiologist doing cardiac MRs. The features in the latest versions are awesome and better that some workstations included softwares. (...)"
wooikok
RadiAnt Forum
"RadiAnt is a Windows DICOM-viewer that was advertised being "Smart. Easy. Fast.", based on the content of the webpage. This promise was confirmed in our survey. (...) In summary, RadiAnt was a very compelling software, powerful for all imaging modalities and our favorite Windows DICOM-viewer."
Brühschwein, A., Klever, J., Hoffmann, AS. et al. J Digit Imaging (2019)
"You are really the best dicom viewer software in the windows environment, one of those few for which it is really worthwhile to believe in the work done with passion."
Lucio
RadiAnt Forum
"Great work with the MPR feature, it's smooth and fast and a joy to work with."
Schmunzel
RadiAnt Forum
"Very good software. Very good job. I dreamed a so good and powerful software on Windows. Go on your project."
Mic
RadiAnt Forum
"Really amazing work. You're on your way to make the best DICOM viewer for windows (...) Thanks for all your work."
M B Charles
RadiAnt Forum
"Your software is really fast, with a handy interface. It is more fluid than many professional softwares. (...) Thank you very much."
Pierre
RadiAnt Forum
"(...) I think you are the best. RadiAnt is the fastest and easy to use volume rendering capable dicom program. Scalpel function I loved the best. Thank you."
Bataklik
RadiAnt Forum
"I just wanted to write and say thank you for your software. Having just broken a bone, and being very frustrated to not be able to see what was going on, this was a day saver. Thanks again!"
Elizabeth Jones
"I believe this software is the fastest DICOM viewer in the world. Great work."
kertz1001
RadiAnt Forum
"(...) it is an outstanding application for imaging review."
Jordi Huguet
RadiAnt Forum
"(...) the ease of use, which becomes evident with each run, as well as the nicely designed interface that facilitates the access to all the features of the program. Working with RadiAnt DICOM Viewer could hardly be simpler (...) that makes RadiAnt DICOM Viewer such a sought-after software solution."
Softpedia.com
"I am a practising cardiologist, the last few years I have tested many light weight dicom viewer and minipacs. Different specialties often have different requirement and preference. What could say is that for practising cardiologist RadiAnt is the BEST. Loading angiography cine images and echocardiography are a breeze without any delay and hiccups. Multiple cines from different modalities of different patient can be displayed simultaneosly. Invaluable for explaining patient of their angiographic findings etc."
Onn Akbar Ali
RadiAnt Facebook page
"I love the Radiant software! Very fast and easy to use."
Dr. Kenneth N.
RadiAnt Forum
"Once again thanks for producing such a great piece of software."
James
RadiAnt Forum
"(...) compliments to your programming team that made this very easy to use program. It seems like there are some differences in the various Dicom formats out there and your software was the only one I could find that would load them all."
Lance Alexander
"(...) RadiAnt is one of the most stable DICOM viewers I've tried so far. I was able to kill or freeze most of them with invalid dcm file and RadiAnt is rock solid, haven't failed even once. Great software you have there."
Seldon
RadiAnt Forum
"(...) I have to say using RadiAnt on the Microsoft Surface is a wonderfully intuitive experience with the multitouch controls, thank you for the great work! I would have had to give in and buy an apple if it wasn't for the radiant team!"
Nick
RadiAnt Forum
"I use the Radiant DICOM viewer to arrange mock examination for my junior doctors who are preparing for postgraduate radiology examination. The import function of this program is convenient for me to batch import all the DICOM files belonging to different cases/patients in one go as the program automatically scans all the dicom files within the selected folder and load them to the viewer. My junior doctors, who have never used this software before, also found the interface of this software user-friendly, simple to use and easy to follow."
Dr. Chan
"It looks like Radiant will be a viewer that will satisfy my needs to keep from having to deal with the myriads of display programs of varying quality and functionality burned along with studies."
Kenneth Krone, M.D.,
San Luis Obispo, CA, USA
"(...) It has been a pleasure to deal with you! RadiAnt is the best DICOM viewing software I've used once more!"
Megan
"The Radiant Viewer will do cross reference lines fairly easily. Plus it's light and super fast. I get a lot of calls from referring physicians about viewers that they can't get to work or aren't compatible with win7 or 64 bit and I always recommend the Radiant viewer. Haven't heard one complaint yet..."
The Wolverine,
AuntMinnie.com Forums
"RadiAnt is a very sleek and intuitive DICOM viewer, and it is frequently updated by its Polish developers."
tomintechsupport.com
"I've been very impressed with the RadiAnt DICOM Viewer from the start. I have tried many free dicom viewers and this is the fastest and easiest I have found."
Jason Hodge
CT Specialist
Toshiba (Australia)
"I am an end-user (patient) who could not wait several minutes for the IntelViewer to load off the CD and then wait long periods of time to load and display views. I downloaded several no cost viewers and found RadiAnt to be the fastest and also the least intrusive. I put the viewer and the 900 images from CT, X-ray and MRI on a stick drive and can take it to treatment facilities along with all my other records. I can run it without disturbing the host computer at the doctor's offices. Thank you for allowing those of us who are non-professionals and do not have funds to purchase expensive software to download this package."
Tim Deaton, USA
"RadiAnt is a nice little DICOM viewer program, new to this site (...) It's a small, simple, quick DICOM viewer, great for quickly and easily viewing images. It has plenty of capacity to read large image series, though: it can load multiple series at once, which may be switched between, and is compiled in 64-bit mode so can load very large data sets. It's frequently updated and has a well-executed web site. It's a good tool for the job it does."
IDoImaging.com
"(...) What I also accidentally discovered is an extremely lightweight DICOM viewer with basic viewing options - perfect for being CD distribution, called RadiAnt. (...) As 3 year radiology resident I have already seen dozens of bundled viewers on CDs... this one is at least 300% faster than any I've seen so far. It also allows you to include your own company logo to the splash screen it shows while loading."
NiksaVel
"(...) I used to work first with Accuview lite, then with Dicomworks, and lately with KPACS. I have to say that your software is excellent from all points of view. I am going to recommend it to my partners, because it is very simple to use and has all the most important functions."
Gustavo
"(...) This is the perfect tool for teaching, am a senior registrar in UK and am pleased to say that this is what I had been looking for since last 2 years. (...)"
Dr Sameer Shamshuddin Registrar, Radiology