Feb 15, 2021 05:49 PM
by
DrMaestro
Hi,

Most of the US devices put the patient's name on the image and this data cannot be removed later once the clip has been sent to pacs as it is hard-coded on the picture (it can be removed if it is anonymized and exported from the ultrasound directly). As a solution for this problem, I use a video editor to draw a rectangle, which matches the background color, on top of the name area. Can this option be added to RadiAnt? It will need to be a function which can draw a rectangle whose color can be changed. Maybe a color picker tool could also be halpful for an exact match of the rectangle to the background color. Of course, the clip export should be able to render it.

Thanks....

Feb 15, 2021 06:01 PM
by

This method requires some work, but you should be able to achieve your goal:
1) Draw an arrow
2) Change its size and style so that it matches your area and color
3) Duplicate it in other images of the series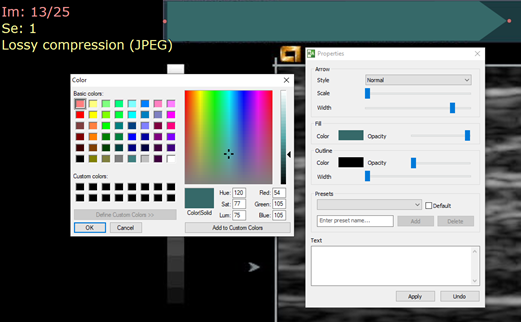 Feb 17, 2021 09:36 AM
by
DrMaestro
Thank you very much for the method. I tried it but it didn't work exactly. I can create the arrow, select it and duplicate on all images on the series. If I scroll using the mouse, the box is visible without a problem. However, if I play back using the play button, the box disappears. Also, if I export a movie clip, the box isn't visible again in the clip.

Feb 17, 2021 09:42 AM
by

ROIs are hidden when the Cine loop is enabled.
If exported to WMV/MP4, the arrow will be exported (we've just checked).
However, if you "export" to DICOM, the original DICOM file will not be changed, it will be just copied to a new location.