Aug 13, 2021 12:06 PM
by

2021.2 BETA #22500 (August 13, 2021)
Improvements and bug fixes:
* Fixed rare issues with activation on non-standard systems.
* Added support for certain DICOM images not fully compliant with the standard.
* Added support for DICOM images with pixel data stored in 32-bit cells.
* Fixed display for certain US images with JPEG YBR compression.
https://www.radiantviewer.com/beta/
Sep 23, 2021 04:17 AM
by
Pavel A.
Hello!
Is it possible to implement the next feature - when I export DICOM files from RadiAnt to drive the filenames are not DICOM compliant, for example IMG-0001-00001.DCM

And thats what DICOM standart says:
сharacters in files names must all be upper-case, numbers 0-9 can also be used in file names (but without special characters as "-" for example), and the maximum filename length is 8 characters.

I am asking this for DICOMDIR file generation purposes.

Sep 29, 2021 07:52 PM
by

Hi,

It's a very specific use case but we will certainly consider your request.

Sep 29, 2021 07:53 PM
by

2021.2 BETA #27107 (September 28, 2021)
New features:
* Distraction free mode (Alt + Shift + Enter) - hides everything but the images.
https://www.radiantviewer.com/beta/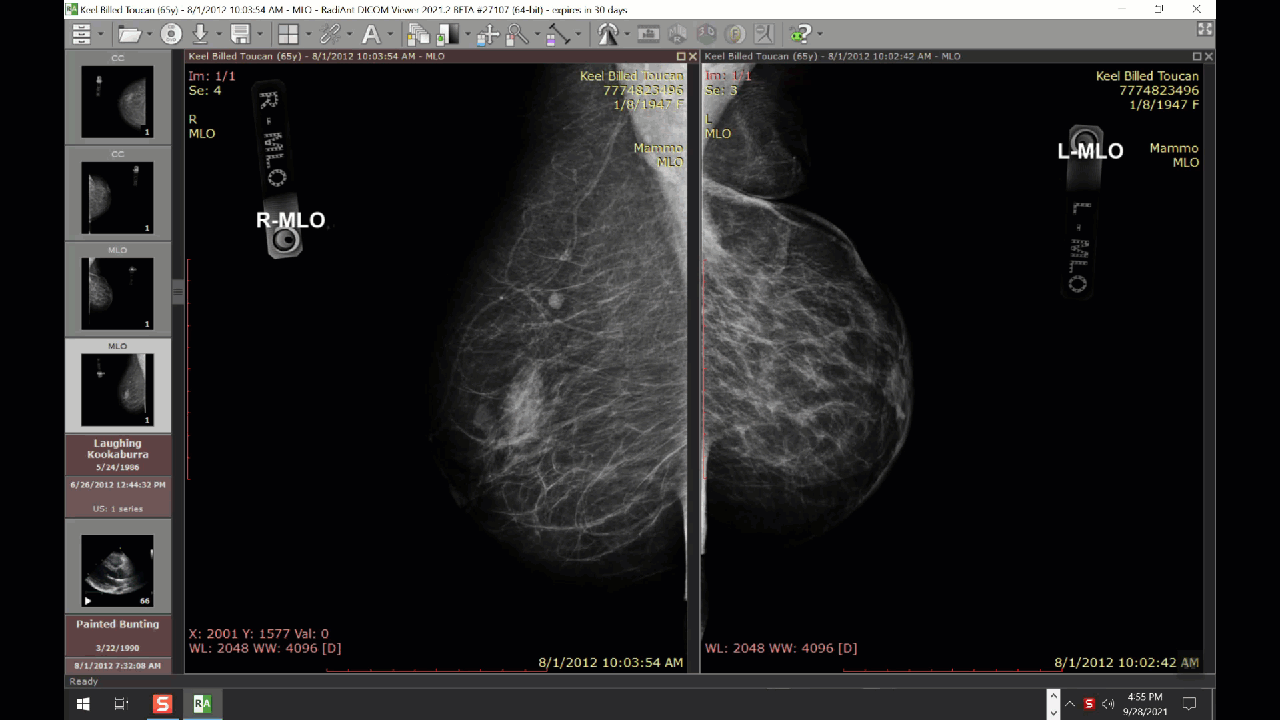 Oct 2, 2021 06:12 PM
by
Dr. Woodhouse
#1: Love the new features.
#2. Feature request: Bring more functions from the options and overlay files to the UI. Every time I re-install, I have to edit the 2 files. I disable screenwrap, set <offcenter> to 1, and have to adjust the overlay not to display <00032,4000>.

Oct 3, 2021 06:50 PM
by
Lukash
Like new feature!
Works perfectly!

Oct 6, 2021 11:52 AM
by
Vitali
Hi!
Are there any plans for making the app DPI-aware?
Currently I use 150% scaling in Windows. The UI is big, but blurry. If I set the DPI setting to "managed by app" I lose scaling, but the UI is crisp like it should be. Setting the DPI mode to System(Enhanced) make the UI as big as 150% but certain elements doesn't scale up well.

Oct 24, 2021 08:24 AM
by

Yes, the high-DPI support is right now one our top-priority features as high resolution screens are becoming a norm. We should begin to work on it soon and hopefully have it released in 2022 H1.

Oct 28, 2021 03:27 PM
by
I'm user)
it seems that in this beta the F5 key stopped working updating the list of research series.
I'm sorry if I'm giving out a false report

Oct 28, 2021 07:33 PM
by

You're right. We've changed this shortcut to Ctrl + F5, as it turned out that F5 was already used by the search presets (F2-F12).
You can re-assign it to F5 if you prefer.

Nov 2, 2021 02:06 PM
by
I'm user)
Thanks! I completely forgot about this brilliant Radiant ability to change assigned keys!

Nov 4, 2021 11:45 AM
by
Lukash
About Distraction free mode

I make fullscreen, enter Distraction free mode, then disable Distraction free mode and program window exits fullscreen mode too - I think it`s a bug

Nov 4, 2021 09:17 PM
by

Not necessarily a bug, but it seems that remembering full screen mode state would be optimal when switching the distraction free mode. We'll change that behavior in next beta versions. Thanks for pointing this out.