Apr 27, 2016 08:50 AM
by

3.1.5.12498 BETA (April 27, 2016)
New features:
- Keyboard shortcuts customization (drop-down menu from the Help icon).
Improvements and bug fixes:
- Several PACS locations and modalities can be chosen in the PACS search window (using checkboxes).-
- Improved support for PACS servers prematurely releasing C-MOVE association.
- Support for the SERIES and IMAGE levels, and several AE titles while retrieving studies from PACS locations via command line parameters.
http://www.radiantviewer.com/beta.php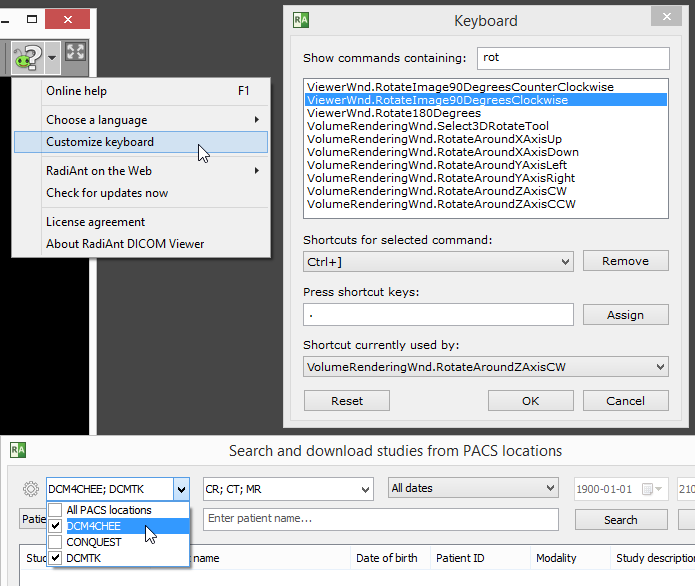 Apr 27, 2016 07:14 PM
by
Tommy
an outstanding new feature... as usual...

I see checkboxes in the modality menu as well.

thumbs up!!!

Apr 27, 2016 07:37 PM
by
Tommy
I wonder if an "import/export" keyboard option could be added as well

It would make easier to duplicate custom keyboard settings among different PCs

actually I can do it manually just copying the keyboard.xml file from the AppData of a computer in the next one

Apr 27, 2016 10:03 PM
by

Thanks, Tommy.
Yes, you can just copy the keyboard.xml file. Currently we don't plan an import/export of this file from GUI. Once we have a dedicated window for all program settings, there'll be an option to import/export them.

Apr 28, 2016 04:02 AM
by
Tommy
I also like the fact that the same shortcut can have different effects if you use it in the viewer or in the 3D panel

again a well designed feature

user experience and customization is pushed to another level

May 2, 2016 01:37 PM
by
bataklik
hi,
i didn't use radiant, especially the beta version for two years. and when i downloaded the final version, i saw the volume rendering button.
i think you are the best.
radiant is the fastest and easy to use volume rendering capable dicom program. scalpel function i loved the best.
thank you.

May 5, 2016 08:45 AM
by

@bataklik

Thanks! We still can (and will) improve the VR speed by a significant factor when we add the GPU rendering mode.

May 8, 2016 04:46 AM
by
Jonas
It's great that you are improving quikcly :) MIP is still greatly anticipated.
Also, I started to get errors for Head scans that slices are tilted, when I want to do MPR. Is there any way to fix that or is it a problem with DICOM?

May 8, 2016 06:31 AM
by
Tommy
MPR errors with tilted gantry CT scans is an already known limitation of the current MPR engine.

May 15, 2016 10:21 PM
by
Konrad
Hi guys. Just bought some 2 in 1 with windows 10, including active pen for input (exactly Lenovo Miix700). I have some issue by 3D rendering. When I try to use "rotate (R)" option with active pen it performs option "scalpel (S)". Using my finger on touchscreen works fine. If you mind to solve this problem I will be thankfull.
I really appreciate job You guys do.
Kind regards.

May 16, 2016 11:05 AM
by

Hi Kondrad,

Actually this behavior was intended.
When you hold the pen, you can rotate with one hand, and quickly cut out volume with the pen. However, this might not be desired for all users, so perhaps we'll make it an option to associate a pen only with the scalpel tool.

Greetings,
Maciej

May 25, 2016 06:19 PM
by
Konrad
Thanks. I use active pen to navigate in surgical theater (i keep my active pen with sterile tool so it's easy to navigate during the surgery).
Greetings
Konrad

Jun 4, 2016 07:29 AM
by
OlegDoc
Hello. I think if you add oblique MPR and the ability to work with images of tilted gantry, this is the best program in the world !!!
Thankyou!!!!!

Jun 13, 2016 08:26 PM
by

Thank you, Oleg :-)