Nov 13, 2018 05:25 PM
by

Yes, it's finally here. You can now import studies from PACS nodes to the local archive. You can also push studies from other PACS locations to RadiAnt's DB.
We'll appreciate your comments & suggestions.
https://www.radiantviewer.com/beta/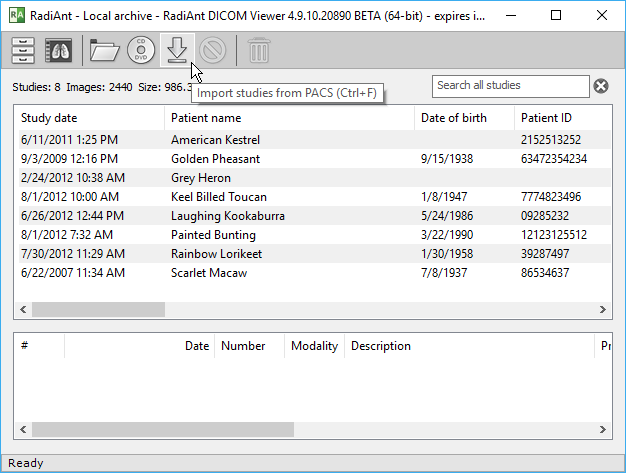 Nov 13, 2018 05:51 PM
by
Eisenhorn
Thank you very very very much!
Radiant is True Miracle!

Nov 14, 2018 12:45 AM
by
Dr Muhammad Shoyab
Truly genius!

Nov 14, 2018 01:40 AM
by
vaderbsb
Fantastic job.
I would like to give one suggestion. On the database local database window it would be nice if the column "titles" like name, keywords, patient ID, study date could be changed in position. For teaching purposes having the keywords as the first column would be very nice. Therefore all individual preferences would be met if we could rearrange the columns.

Once again, great job!!!

Nov 14, 2018 06:13 AM
by
Tommy
outstanding improvements!!!
I like the new Load cases icon in the DB viewer too.

Nov 14, 2018 09:42 AM
by
Eisenhorn
Thank you very much.
That button DB (enable/disable import to local archive).
May be it will be better, if by default that button will be Enabled, not disabled.

Nov 14, 2018 10:55 AM
by

Thank you guys for a warm reception of this new feature!

@vaderbsb

Columns will become customizable (presence, order, width).

@Eisenhorn

If you click the PACS button in the DB window, the DB icon will be green. When you click this button in the viewer window, RadiAnt assumes that you want it only in the temporary storage and disables DB import, making the DB icon red.

We will probably add an option to enable DB import by default, regardless of which PACS button was pressed.


Nov 14, 2018 02:09 PM
by
Eisenhorn
Thank you very much for explanations

Nov 17, 2018 02:37 PM
by
Dr Muhammad Shoyab
With great achievement comes finer adjustments.

Some of the things I'd like to see in next updates :-
# Option to select existing / new database location DURING INSTALL.
# Prevent change of database location during update.


Nov 25, 2018 03:25 PM
by

@Dr Muhammad Shoyab

The location of the default database is not changed during update.
We might add an option to select the DB during installation.